PARENTS
All Little Athletics centres need parents and carers to volunteer to help run the Club Competition on Friday nights and to be on the Committee.  Without parent volunteers a centre cannot operate.  Our club at Austral is no different.
We do need parents to step and assist on Friday nights and to be on the Committee.  A Committee is essential to enable the club to operate and meet Little Athletics NSW guidelines and Fair Trading.
On Friday nights we need parents to help with:
Setting up equipment

Being an Age Manager

Operating the canteen or Bbq

Recording times/time keeping

Being a 'Starter' for the running events

Packing up the equipment
We also need Committee Members to:
Manage/Check equipment

Manage uniform stock

Record Club Competition results into the Little A's software

Be involved in fund raising/sponsorship
For parents who are sporty or have previous athletics experience there is also the opportunity to become a qualified Coach.
If you are interested in this please speak to a Committee Member to discuss or go to Little Athletics NSW to find out more.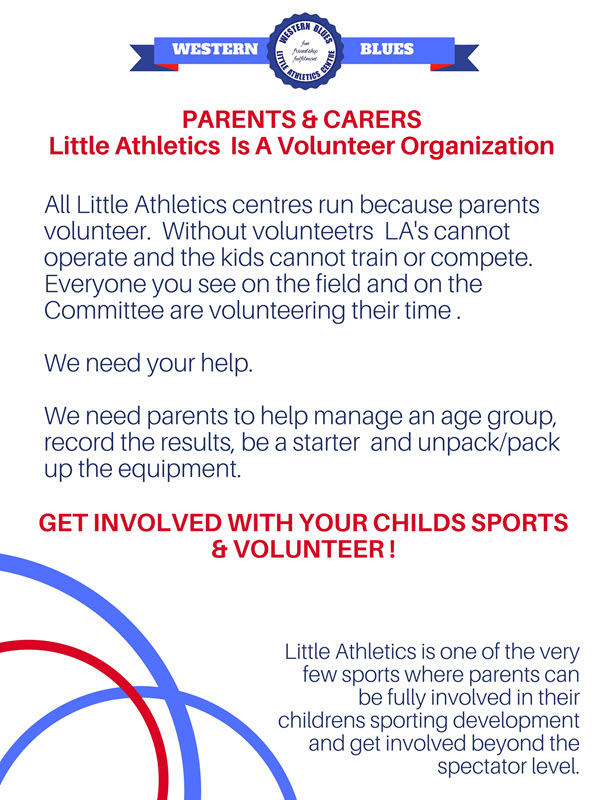 Want To Know How To Join Our Centre?
We'd love to hear from you and answer any questions you have…
Po Box 57 
Austral NSW 2179
Western Blues Little Athletics
Craik Park
Cnr 4th & 11th Avenue
Austral NSW 2179